Viña Buena - Tinto Joven
Viña Buena - Tinto Joven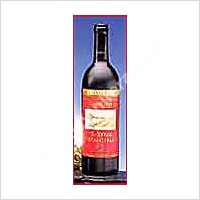 Spain > Castilla y Leon > Ribera del Duero red
Informations about the winery
Bodegas Viña Buena
09400 Aranda de Duero - Burgos - SP
Contact : Phone | Fax
Email : contact the winery
Web :

The informations about the wines on CavusVinifera are entered by the users themselves, on a collaborative way. They can, sometimes, have some mistakes. The wines sheets are frequently reviewed and corrected by moderators.
If you see an error or want to create a new wine sheet, don't hesitate to
contact us
.
Wines from the same winery (2 wines in the database)
Wines from the same area (351 wines in the database)
Tinto Pesquera Crianza
Ribera del Duero - red


Bodegas Alejandro Fernandez Tinto Pesquera 47315 Pesquera de Duero (Valladolid)
Tinto Pesquera, Reserva
Ribera del Duero - red


Bodegas Alejandro Fernandez Tinto Pesquera 47315 Pesquera de Duero (Valladolid)
Tinto Pesquera, Gran Reserva
Ribera del Duero - red


Bodegas Alejandro Fernandez Tinto Pesquera 47315 Pesquera de Duero (Valladolid)
Tinto Pesquera Janus Gran Reserva
Ribera del Duero - red


Bodegas Alejandro Fernandez Tinto Pesquera 47315 Pesquera de Duero (Valladolid)
Marqués de Velilla Joven
Ribera del Duero - red


Grandes Bodegas 09311 La Horra - Burgos - Spain
Marqués de Velilla Barrica
Ribera del Duero - red


Grandes Bodegas 09311 La Horra - Burgos - Spain
Marqués de Velilla Reserva
Ribera del Duero - red


Grandes Bodegas SA 09311 La Horra - Burgos - Spain
Marqués de Velilla - Crianza
Ribera del Duero - red


Grandes Bodegas SA 09311 La Horra - Burgos - Spain
Marqués de Velilla - Gran Reserva
Ribera del Duero - red


Grandes Bodegas SA 09311 La Horra - Burgos - Spain
Prado Rey Reserva
Ribera del Duero - red


Real Sitio de Ventosilla 0944 Burgos
Tarsus
Ribera del Duero - red


Bodegas Tarsus 09312 Anguix - Burgos - SP
Rauda - Crianza
Ribera del Duero - red


Bodega Virgen de la Vega 09300 Roa - Burgos - SP
Conde de Siruela Crianza
Ribera del Duero - red


Bodegas Frutos Villar 47170 Cigales (Valladolid)
Arzuaga - Crianza
Ribera del Duero - red


Bodegas Arzuaga Navarro 47350 Quintanilla de Onesimo - SP
Arzuaga - Reserva
Ribera del Duero - red


Bodegas Arzuaga Navarro 47350 Quintanilla de Onesimo - SP
Arzuaga - Reserva Especial
Ribera del Duero - red


Bodegas Arzuaga Navarro 47350 Quintanilla de Onesimo - SP
Arzuaga - Gran Reserva
Ribera del Duero - red


Bodegas Arzuaga Navarro 47350 Quintanilla de Onesimo - SP
Flor de Pingus
Ribera del Duero - red


Dominio de Pingus 47350 Quintanilla de Onésimo (Burgos)
Alauda
Ribera del Duero - red


Bodegas y Viñedos Pago de Peñuelas 47360 Quintanilla de Arriba (Valladolid)
Fuentespina - Crianza
Ribera del Duero - red


Bodegas Fuentespina, S.l. 09471 Fuentespina, Burgos
Recorba
Ribera del Duero - red


Real Sitio de Ventosilla SA 09443 Burgos - SP
Conde de San Cristóbal
Ribera del Duero - red


Bodegas y Viñedos Conde de San Cristóbal 47300 Peñafiel - Valladolid - SP
Viña Buena - Tinto Joven
Ribera del Duero - red


Bodegas Viña Buena 09400 Aranda de Duero - Burgos - SP
Condado de Haza - Crianza
Ribera del Duero - red


Bodegas Condado de Haza 09300 Roa - Burgos - SP
Viña Pilar - Crianza
Ribera del Duero - red


Bodegas Félix Callejo 09441 Sotillo de la Ribera - Burgos
Dominio de Nogara Joven
Ribera del Duero - red


Bodegas y Viñedos Valtravieso ES-47316 Piñel de Arriba (Valladolid)
Durón Crianza
Ribera del Duero - red


Bodegas Durón 09300 Roa - Burgos
Durón Reserva
Ribera del Duero - red


Bodegas Durón 09300 Roa - Burgos
Malleolus
Ribera del Duero - red


Bodegas Emilio Moro 47315 Pesquera de Duero - Valladolid
Torres - Celeste Crianza
Ribera del Duero - red


Viñas de Miguel Torres 08720 Vilafranca del Penedès - Spain
No tasting notes for this wine yet
There is no tasting notes for this wine yet, register if you want to post one
youcellar youcellar youcellar youcellar youcellar youcellar youcellar youcellar youcellar youcellar youcellar youcellar youcellar youcellar youcellar youcellar youcellar youcellar youcellar youcellar youcellar youcellar youcellar youcellar youcellar youcellar youcellar youcellar youcellar youcellar youcellar youcellar