Andéol Salavert
Andéol Salavert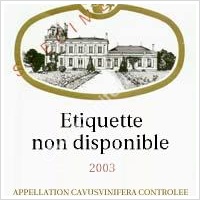 France > Rhône Valley > Côtes du Rhône (Méridionales) red
Informations about the winery
Caves Salavert
07700 Bourg Saint Andéol
Contact : Phone | Fax
Email : contact the winery
Web :

The informations about the wines on CavusVinifera are entered by the users themselves, on a collaborative way. They can, sometimes, have some mistakes. The wines sheets are frequently reviewed and corrected by moderators.
If you see an error or want to create a new wine sheet, don't hesitate to
contact us
.
Wines from the same winery (3 wines in the database)
Wines from the same area (1436 wines in the database)
Domaine Rigot - Prestige des Garrigues
Côtes du Rhône (Méridionales) - red


Domaine Rigot 84150 Jonquières
Les Vignerons de Visan, Les Collines de l'Enclave
Côtes du Rhône (Méridionales) - red


Les Vignerons de Visan SCA 84820 Visan (Vaucluse)
Château de Ruth
Côtes du Rhône (Méridionales) - red


Château de Ruth 84290 Sainte-Cécile-les-Vignes
Château Saint-Jean
Côtes du Rhône (Méridionales) - red


SCA Château Saint-Jean 84850 Travaillan (Vaucluse)
Château Mont-Redon
Côtes du Rhône (Méridionales) - red


Château Mont-Redon 84231 Châteauneuf-du-Pape cedex
Domaine de la Mordorée - La Dame Rousse
Côtes du Rhône (Méridionales) - red


Domaine de la Mordorée 30126 Tavel
Beaumes de Venise - Vieilli en fûts de chêne
Côtes du Rhône (Méridionales) - red


Cave des Vignerons de Beaumes 84190 Beaumes de Venise
Coudoulet de Beaucastel
Côtes du Rhône (Méridionales) - red


Château de Beaucastel 84350 Courthezon
Château de Fonsalette - Cuvée Syrah
Côtes du Rhône (Méridionales) - red


Château Rayas 84230 Châteauneuf-du-Pape
Cellier des Chartreux, Le Père Louis Cuvée Royale
Côtes du Rhône (Méridionales) - red


SCA Cellier des Chartreux 30131 Pujaut
Château de Montmirail - Cuvée Jeune Vigne
Côtes du Rhône (Méridionales) - red


SCEV Maurice Archimbaud - Monique Bouteiller 84190 Vacqueyras
Domaine de Fontavin
Côtes du Rhône (Méridionales) - red


Domaine de Fontavin 84350 Courthézon
Biovinum - Louis Mousset
Côtes du Rhône (Méridionales) - red


Louis Mousset 84230 Châteauneuf du Pape
Domaine de la Vieille Julienne
Côtes du Rhône (Méridionales) - red


Domaine de la Vieille Julienne 84100 Orange
Domaine Gallety
Côtes du Rhône (Méridionales) - red


SCEA Gallety 07220 Saint Montan
Domaine La Soumade
Côtes du Rhône (Méridionales) - red


Domaine La Soumade 84110 Rasteau
Domaine La Soumade - Les Violettes
Côtes du Rhône (Méridionales) - red


Domaine La Soumade 84110 Rasteau
Château de Saint Cosme Les Deux Albion
Côtes du Rhône (Méridionales) - red


Louis Barruol 84190 Gigondas (Vaucluse)
Louis Bernard - Grande Réserve
Côtes du Rhône (Méridionales) - red


Louis Bernard 84100 Orange
Rive Droite
Côtes du Rhône (Méridionales) - red


Les vignerons de Saint Hilaire d'Ozilhan 30210 Saint Hilaire d'Ozilhan
Domaine Coulange - Cuvée Rochelette
Côtes du Rhône (Méridionales) - red


Domaine Coulange 07700 Bourg Saint Andéol
Domaine de la Guicharde - Cuvée Genest
Côtes du Rhône (Méridionales) - red


Domaine de la Guicharde 84430 Mondragon
Domaine Saint Claude - Elevé en Fût de Chêne
Côtes du Rhône (Méridionales) - red


EARL Domaine Saint Claude 84110 Vaison la Romaine
Domaine Coulange - Cuvée Mistral
Côtes du Rhône (Méridionales) - red


Domaine Coulange 07700 Bourg Saint Andéol
Domaine de la Guicharde, Cuvée Léon
Côtes du Rhône (Méridionales) - red


Arnaud et Isabelle Guichard 84430 Mondragon (Vaucluse)
Domaine de la Guicharde - Cuvée Ninon
Côtes du Rhône (Méridionales) - red


Domaine de la Guicharde 84430 Mondragon
Domaine de la Guicharde
Côtes du Rhône (Méridionales) - red


Domaine de la Guicharde 84430 Mondragon
Domaine de la Guicharde - Le Vin rouge d'Isabelle
Côtes du Rhône (Méridionales) - red


Domaine de la Guicharde 84430 Mondragon
Domaine de la Guicharde - Syrah
Côtes du Rhône (Méridionales) - red


Domaine de la Guicharde 84430 Mondragon
Domaine Font de Michelle
Côtes du Rhône (Méridionales) - red


Domaine Font de Michelle 84370 Bedarrides
No tasting notes for this wine yet
There is no tasting notes for this wine yet, register if you want to post one
youcellar youcellar youcellar youcellar youcellar youcellar youcellar youcellar youcellar youcellar youcellar youcellar youcellar youcellar youcellar youcellar youcellar youcellar youcellar youcellar youcellar youcellar youcellar youcellar youcellar youcellar youcellar youcellar youcellar youcellar youcellar youcellar