About us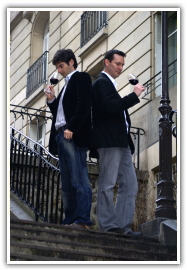 Who are we?
We are two Bordeaux's guys who courted the girondine cited for professional reasons. Everything started a Sunday afternoon in October when the gloomy weather convinced us to find another outdoor hobby than walking in country. We therefore decided to take a Guide Hachette des Vins and see if a wine grower would open its winery for a tasting session. We found one and the wine was so good, so excellent that the world of wine has naturally attracted us.
After several purchases of bottles, we were fed up of paper notebook for the management of our cellars. So we decided to create our own management tool and we released it for the benefit of everyone.
Our wine cellar management tool is now online and we hope that it would give you a lot of pleasure using it.
The aim of YouCellar
Our goal is to give everyone a very easy and friendly tool to manage your wine cellar.
Moreover, to overcome the books, we have decided to create an online library where you can find a lot of relevant information so the world of wine won't have secrets anymore.
What will you find on the website?
On this website, you will find, with the wine cellar management tool, plenty of informations about:
countries, regions and areas
varieties
vintages
classifications
bottles and labels
wine's language
But also advices to:
Marry a dish with a wine
Marry a cheese with a wine
Preserve and enjoy your wine
As well as recipes.
Photo Credits : kodakgold (SXC)
youcellar youcellar youcellar youcellar youcellar youcellar youcellar youcellar youcellar youcellar youcellar youcellar youcellar youcellar youcellar youcellar youcellar youcellar youcellar youcellar youcellar youcellar youcellar youcellar youcellar youcellar youcellar youcellar youcellar youcellar youcellar youcellar